In Her Shoes: The Fabulous Flat Lays of Carylee
You know all those Instagram photos you love of outfit pieces and accessories perfectly laid out on a white background? They're called flat lays in the fashion world, and they're just another way that influencers make their personal style come to life. Flat lays don't even have to stop at fashion–you could design your own around anything you like: spring flowers, workout gear, even office supplies!
Saint Louis native Carylee Scobbie–the talent behind fashion blog More Pieces of Me–peppers her Instagram can take the contents of her closet and turn them into Instagram art. Her flat lays have even inspired her own hashtag: #caryleeflatlays. But why should she have all the fun, right? We sat down with her recently to get the tricks to her flat lay trade so you can create your own. And don't worry if you don't have a professional studio set up in your home; all it really takes is a look you love, a new spring shoe, and a flat surface. You'll be racking up Insta-likes in no time!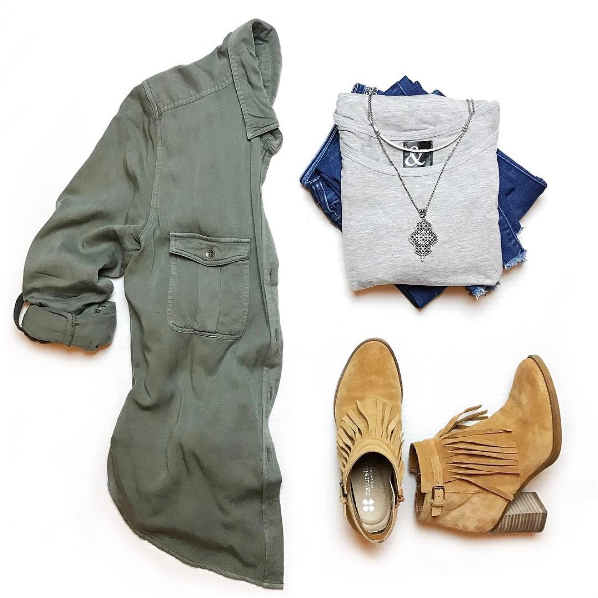 Her most recent flat lay featured the fringe-adorned Fortunate bootie in Camelot suede.
Carylee: "All of my flat lays are taken with my phone. I have an iPhone 7, but I've been using every iPhone along the way! I have a 36″ x 48″ trifold presentation board I found at Michaels that I use as my backdrop. I use the photo editing app called Aviary to brighten, straighten, crop, and/or color-fix my photos before I post them."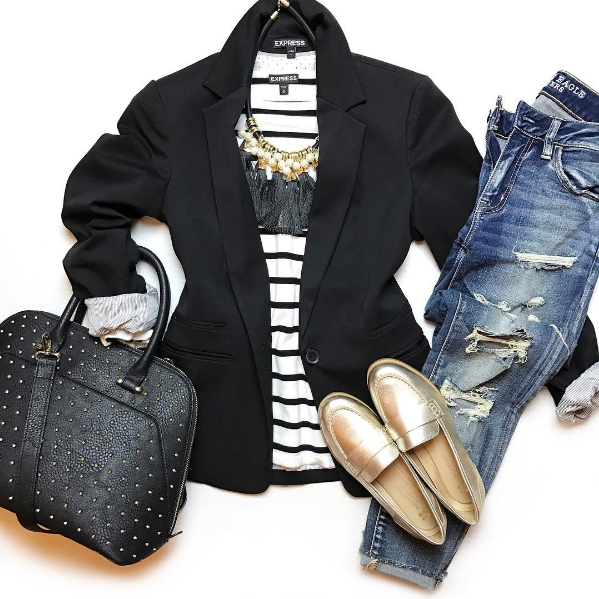 In a flat lay posted on January 23, Carylee complemented the gold Veronica loafer with a nautical mix of navy, white and denim.
Carylee: "Usually I have one particular piece in mind that I'm building my outfit around. For example, I knew I wanted to showcase the Veronica loafer [in the image above]. I immediately thought of pulling together a menswear-inspired outfit with interesting details to catch your eye like the statement necklace, the stripes, and, of course, the rips. I usually take a couple of photos first then review them to see if I need to make any tweaks to the composition. I don't really have set rules, I just lay things out in a way where the proportions 'feel' right to me."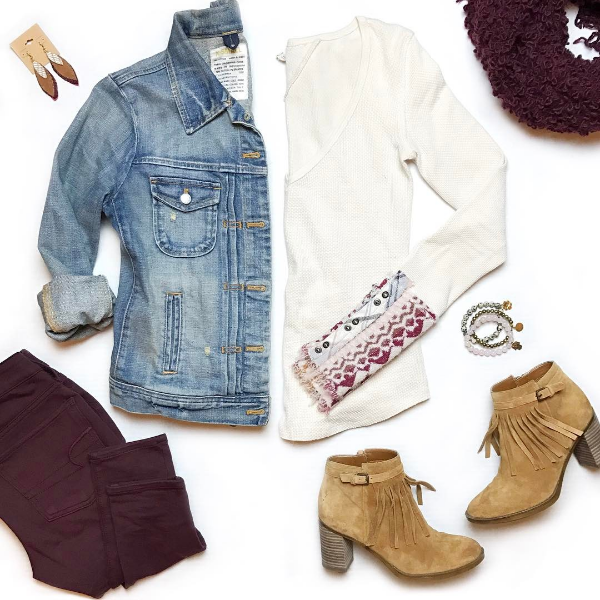 The Fortunate inspired her bordeaux-and-denim flat lay posted on January 9.

Carylee: "Natural light is key to a good flat lay, in my opinion! I have a large window in our home office, and I lay my board on the floor next to it. I do them at the time of day when the room is well lighted but without direct sunlight – based on the direction my house faces, this ends up usually being between 10:00 AM and 2:00 PM in the afternoon.

"I've always loved looking at other people's flat lays. They're a great way to pull general color and pattern pairing inspiration even if I may not have the exact same pieces. Sometimes it's easier to picture yourself in a certain outfit when you're not seeing the outfit on an actual person. And you're also able to capture a lot more detail in the textures and colors in a flat lay that you may otherwise miss on a more "zoomed out" view of the entire outfit in a regular head-to-toe photo or selfie."

Comments