In Her Shoes: How to Dress Like an Entrepreneur
Kate Wiegmann never intended to co-create one of the Midwest's hottest start-ups. The public relations pro–seen below sporting the Natalie pump in latte leather–studied broadcast journalism in college and spent the next 9 years helping other businesses grow from the agency side. Fast forward to winter 2016, and a fateful meeting with her now-boss led to one of the greatest breaks in Kate's career, enabling her to take a leap as an equity-holding partner and Chief Operations Officer at RISE Collaborative Workspace.
RISE, a women-only coworking center, opened just last month in Saint Louis, Missouri, but has already garnered accolades in publications like USA Today, Business Insider, and Forbes. Kate credits the space's inclusive spirit and inspiring roster of members, all of whom boast their own unique and beautiful style. Just days after their grand opening party, we paid a visit to meet this woman on the rise (pun intended) and to learn everything we could about how she got where she is–and where she intends to go from here. If you have ever wanted career advice from an up-and-coming entrepreneur who just happens to wear fabulous shoes, then now is your chance.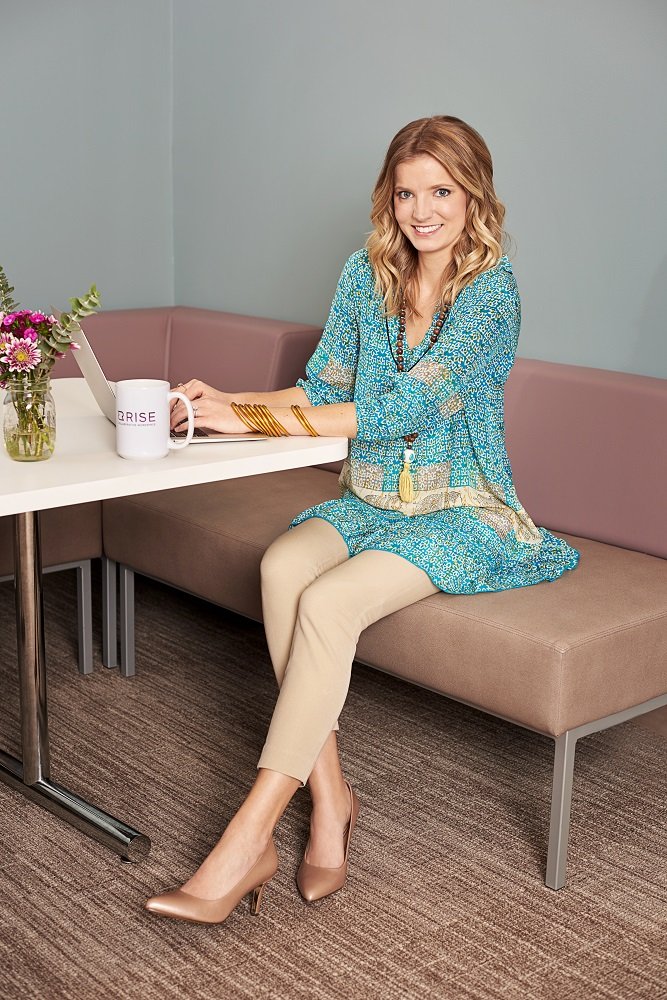 What do you do at RISE, and what's a typical day like?
I am the COO of RISE Collaborative Workspace, a female-focused coworking space designed for women by women. I wear a ton of hats in my role – everything from strategic planning, marketing and event planning to making coffee. When you're running a startup, there's no job too large or too small, and never enough time in the day!
How did you find your current position?
I met my business partner, Stacy Taubman, at a networking event about a year ago. She had the idea for RISE Collaborative and was working to raise capital and open the business, but was doing it alone and losing steam. I was inspired by her vision and wanted to help bring it to life. Stacy and I connected instantly and the rest, as they say, is history!
Why do you think style is important to cultivating career success?
Personal style helps tell your story. In your career, your clients, colleagues, and the public are buying into your story. So whether you're playful, professional, feminine, athletic, trendy, or classic, your style helps reinforce who you want to tell your world you are. And your story doesn't need to be consistent; you can have one look and style one day and a total departure the next. You don't need to spend a lot to look fabulous! I'm a discount shopper, love a great sale, and love swapping wardrobe pieces with my friends to help keep my closet fresh! But when I find things like I love, I'm not afraid to invest in them and will keep them forever or buy two of them!
What's your go-to work outfit?
J.Crew's Minnie pant (I literally have it in 6 colors), a tunic, a big necklace, a giant stack of gold bangles, and the Natalie pump. I'm on my feet all day so shoes that fit perfectly are a must.
Describe your professional style in 3 words.
Colorful. Bohemian. Comfortable.

What makes your job as a partner at a start-up different / similar to previous roles at established businesses?
What I love the most is also what scares me: that there's no boss. That's great because it gives you incredible freedom to follow your vision and explore your creativity.

What do you do in your off hours to find a work-life balance?
Long walks with my husband and cockapoo puppy, Louie; trying new recipes from my umpteen cookbooks; pretending I'm an interior designer and redecorating my home constantly.

Comments